Founders Ed and Patty Lonsbary decided to live their dreams when they launched Private Motor Coach, Inc. in January of 1999 with an ad in the FMCA (Family Motor Coach Association) Magazine, see ad below:
"Dolly's Pride" can go...

"Anywhere - Anytime"

RIDERS WANTED

50 year old, retiring corporate executive, ready to live his dream and hit the road (Canada, USA, Mexico), in a fully equipped MCI motor coach. Will be happy to chaperone nice people "Anywhere, Anytime," especially seniors, pets OK. Everything provided, except personal items. Fair rates - let's do it together!
Private Motor Coach, Inc. travels the USA and Canada; south in the winter, north in the summer, and is always ready to serve our customers and is dedicated to providing a unique and safe travel experience...
"Anywhere - Anytime!"
Ed had worked for 25 years in corporate America: Jacuzzi, DuPont, Dow, Bayer... engineering, sales and marketing and has traveled extensively. Now 61 years old, he started a second career and lives his dream by traveling via a luxury Prevost XL bus conversion-motorcoach.
Ed loves being on the road and "has wanderlust in his heart". He especially enjoys escorting people to destinations of their choice, especially seniors and people with handicaps. "I can open up a whole new world to travelers, especially to those who might not have any other options, or those who do not want to travel the routine way".
Ed's favorite motto is;
"If you love what you do...you will never have to work another day for the rest of your life."
and his favorite quote other than;
"The right attitude is 90% of everything." Author unknown
is;
"Far better is it to dare mighty things, to win glorious triumphs, even though checkered by failure... than to rank with those poor spirits who neither enjoy nor suffer much, because they live in a gray twilight that knows not victory nor defeat."
Teddy Roosevelt
A couple more;
"Do what you are afraid to do."
Ralph Waldo Emerson
And;
"Our doubts are traitors,
And make us lose the good we oft might win
By fearing to attempt."
William Shakespeare "Measure for Measure"
And an old favorite;
"Life is mostly froth and bubble, two things stand like stone;
Kindness in another's trouble, courage in your own."
Adam Lindsay Gordon

And one more for fun and truth:
"You can't spend what you ain't got………you can't lose what you ain't never had."
Muddy Waters 1942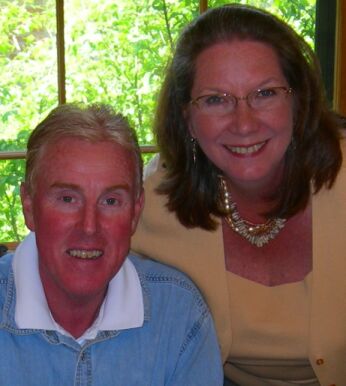 Patty comes from a 25-year career in the philanthropic world where for the past seven-years, as a consultant at Ketchum, she tested the feasibility and planned multi-million-dollar capital and endowment fund raising campaigns for clients. Most recently, Patty served as the lead fund raising consultant for the USA Swimming Foundation, Palmer Trinity School, and Prairie View A&M University. Nationwide, she has worked on campaigns for Hospice of West Alabama, Steel Industry Heritage Corporation, Richardson Regional Medical Center and others. She has managed volunteers at these institutions and from such notable organizations as the American Cancer Society, the Association for Retarded Citizens, and more.
Before entering the non-profit sector, Patty worked as a writer and producer for KQV All-News Radio in Pittsburgh, Pennsylvania. She has earned an International Master of Business Administration (IMBA) from Point Park University (2000) in Pittsburgh, Pennsylvania and a BS in Communications and Psychology from the University of Pittsburgh (1977). She is a long-time Rotarian and Past President (1995-1996) of the Greensburg Rotary Club.
This proactive, gregarious, detailed, and friendly couple are determined to give you the trip of a lifetime! Ed says, "The truth will set you free .... thus, this dream would not have become a reality, without the love and support of my best friend and lovely wife, Patty" .
Our motto is... "Anywhere - Anytime"