Ed Lonsbary is both owner and operator of Private Motor Coach, Inc. As a president and founder of this family owned business, he is also the driver/escort.
Other than safe operation of the motorcoach, the escort's function is the most important aspect of taking people on the road. This is where Ed excels…his love of the road and his desire to share this love with his passengers, makes him uniquely suited for this function.
His many years of being a corporate "road warrior" is without a doubt an additional asset while traveling the highways and byways of this great land. He has "been there, done that" and now can share this special experience with others, especially those individuals who might not have another option.
His personal philosophy towards his passengers is:
"Our corporate goal is to offer a life-long memorable travel experience, and to develop a lasting friendship with each and every traveler."
Come travel with Ed "Red Leader" * Lonsbary.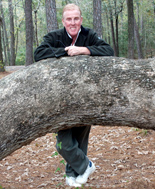 * Citizen Band (CB) handle
Our motto is... "Anywhere - Anytime"