If you are a "road warrior", a business traveler who is always on the go, Private Motor Coach, Inc. offers an alternative to flying, driving or forming a caravan of multiple vehicles.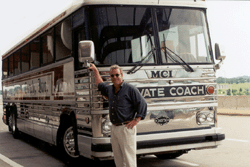 Here are some suggested occasions for bringing your business colleagues on board our coach "Dollys Pride":

Visit existing or potential business locations with investors, managers, and other employees.

Show a VIP around the town! You'll make an impression when your guest is greeted at the airport by an executive motor coach, not a limo or car. Wow!

Take your group to conferences, meetings, or trade shows. You can conduct business on board or just "chill out" and enjoy the ride.

Reward your top performers with an outing. How about a pro football game and a weekend full of entertainment?

Going golfing? The coach will take 2 – foursomes and clubs to the next tournament.

Any group activity: hunting, fishing, NASCAR, sporting events…etc.

Use the coach as a "headquarters" for company personnel at outings such as the company picnic, sponsored charity events, and festivals.
Business travelers enjoy these advantages when traveling with Private Motor Coach, Inc.:

Affordable

Relaxing

Makes you feel like a VIP

Impressive to VIPs

Rewarding
Our motto is... "Anywhere - Anytime"