Volume 13
We Appreciate You!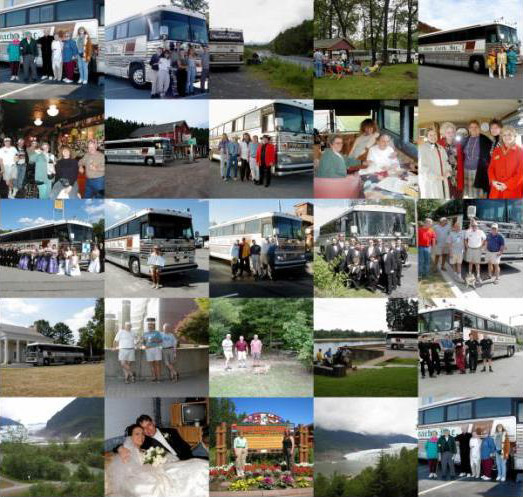 As we celebrate the occasion of our Nine Year Anniversary, we want to thank those of you who have traveled with us on our recently retired coach "Patty's Charm". As our guests, you have made it possible for us to launch a new mode of private travel aboard a luxury motor coach/bus conversion. We hope you hold fond memories of your travels and share our joy as was celebrate nine years of private travel.
A Bit of History and Interview with Ed Lonsbary on the Occasion of the Nine Year Anniversary of Private Motor Coach, Inc.
"When people hear about what I do for a living, many respond enviously. They wish they could live their dream like I do every day," says Ed Lonsbary, the President and Founder of Private Motor Coach, Inc. (PMC). January 2008 marks the nine year anniversary of operating Private Motor Coach, Inc.
Lonsbary has been sharing his passion for wanderlust every day since January 25, 1999 when at age 51 he left a 26-year corporate career and became the first to offer the unique experience of freedom on the road in a luxury motorhome/bus conversion. Lonsbary welcomes travelers aboard his "house-on-wheels" and takes them anywhere roads lead. In the past nine years, Lonsbary has completed more than 50 trips and drove over 165,000 miles throughout the US and Canada.
"This is safe, reliable and comfortable escorted, private travel," explains Lonsbary. "I pick people up at their door, then, we hit the road. Sometimes I have as many as eight people on board, other times it's just been me and one other passenger. I've taken people in the coach for just one day while others have traveled for up to six weeks."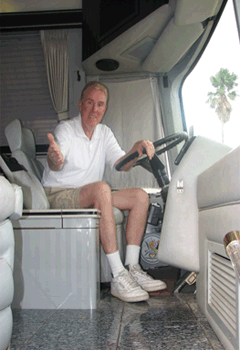 Ed Lonsbary welcomes you aboard the private coach.
Over the nine years, trips have been as unique as his business model. "I enjoy the trips as much as the customers," quips Lonsbary. He recalled one special trip that focused on AAA baseball, Civil War battlefields, barbeque, and blues. The trip followed the Blue Ridge Parkway and the Natchez Trace, made a visit to the Grand Ole Opry in Nashville and finished up in Graceland for the for 25th anniversary of Elvis Presley's death.
Lonsbary escorted The Preservation Jazz Band of New Orleans to a performance in The Hamptons. He gave terminally ill people their last ride to their summer homes. He reunited families for special events. He has helped to show off the splendor of Alaskan glaciers, the wilderness areas of the Canadian Yukon and wonders of national parks. Once, he even caravanned a team of drivers to pick-up a fleet of used garbage trucks. Trips have been for business, vacations and special medical needs.
One key service of Private Motor Coach, Inc. is that it provides a travel option for persons with manageable disabilities, who cannot travel via air or car. "These folks can get off the couch at home and go anywhere," says Lonsbary, "because the coach becomes their temporary home while on the road and an escort is always with them."
Private Motor Coach, Inc. began operations in 1991 in the basement of Canadian-born Ed Lonsbary's North Park home in Gibsonia just north of Pittsburgh, Pennsylvania. In 2001, he moved the operation to Whitehouse near Dallas, Texas. Now, he's given up the physical address and lives in the coach fulltime. "Nearly all of the people who travel with Private Motor Coach find my services on the Internet by going to the website www.privatemotorcoach.com. Over time, I found that I did not need a physical office. I use emails, talk on the phone about where and when people want to travel, and then I take the coach to them. Without roots to a home or office, I can position myself to better serve my customers."
"After only two years in business, the United Motorcoach Association awarded PMC the 2001 Vision Award for innovative travel, but there are no copy cats. Many people have aspired to run a coach like I have. I give them counsel regularly but no one has yet to take the leap. As far as I know, Private Motor Coach, Inc. is the only company providing this type of custom, private travel," says Lonsbary.
Lonsbary plans to continue offering trips as he moves forward in the ninth year of operation with the geographic expansion of trips and the goal to make the tenth anniversary, a real milestone. He explained, "Private Motor Coach will expand the current offering of trips in our luxury motor coach/bus conversion to include more than just North America. Next on the horizon are trips to Central American and South America."
"Dolly's Pride Replaces "Patty's Charm"
In 2007, Ed Lonsbary replaced his original coach, a MCI-9 called "Patty's Charm" with an upgraded Prevost XL motorcoach/bus conversion called "Dolly's Pride." As with the original coach, the Prevost has all the amenities of a house-on-wheels: living room, kitchen, dinette, full bathroom with shower, queen-sized bedroom, and a large storage bay for bicycles, luggage, sports equipment or whatever needs to go along on a trip, including wheelchairs. Lonsbary also tows a Toyota Corolla behind the coach for side trips.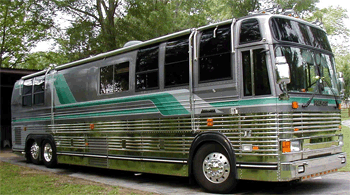 Prevost XL "Dolly's Pride"
Patty Lonsbary, General Manager of Private Motor Coach, Inc. (PMC), is expanding her role as the company targets new travel destinations. She will also develop a new company - Global Tourism Solutions, Inc. (GTS) - with implementation targeted for mid-2008.
President Ed Lonsbary notes, "Patty has been a supportive spouse and part of Private Motor Coach, Inc. (PMC) since its inception in January 1999. She has applied her considerable skills to our entrepreneurial private travel company while engaged in her own career as a Senior Consultant for the Dallas-based fund raising firm Ketchum. On September 7, 2007, Patty resigned from Ketchum to help grow PMC to the next level, as well as concurrently develop Global Tourism Solutions, Inc. that is closely allied with PMC."
Patty remarked, "Private Motor Coach will expand the current offering of trips in a luxury motor coach/bus conversion to include more than just North America. Next on the horizon are Central American and South America. To meet the future needs of the companies, we recently upgraded to a luxury Prevost bus conversion/motor home from our older MCI. And, to make this transition as smooth as possible, we are looking for management/investment partners, up to and including a possible outright sale of PMC, who will continue to grow the US and Canadian markets, while we focus on Central and South America private travel and tourism development via GTS."
Specifically, Global Tourism Solutions (www.glotours.com) is a new business that compliments the long-range goals of PMC. GTS will offer practical solutions for tourism development via analysis, research, and implementation of global marketing strategies by serving as a trusted advisor for government travel bureaus, travel agents, publishers, businesses and travelers. GTS will also tap the contemporary niche market of the charitable tourism.
Patty explains, "There is growing evidence that travelers want their journeys to be more than a 'look and see experience.' They want to benefit the people and places they visit. GTS marries travelers' interests and energies with benevolent national and international projects."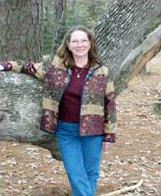 Patty Lonsbary, General Manager of Private Motor Coach, Inc.
Most recently, Patty served as the lead fund raising consultant for the USA Swimming Foundation, Palmer Trinity School, and Prairie View A&M University. Nationwide, she has worked on campaigns for Hospice of West Alabama, Steel Industry Heritage Corporation, Richardson Regional Medical Center and others. She dedicated 17 years of service to charitable organizations including: the American Cancer Society, Women's Services of Westmoreland County, and the Association for Retarded Citizens. Before entering the non-profit sector, Patty worked as a writer and producer for KQV All-News Radio in Pittsburgh, Pennsylvania. She has earned an International Master of Business Administration (IMBA) from Point Park University (2000) and a BS in Communications and Psychology from the University of Pittsburgh (1977). She is a long-time Rotarian and Past President (1995 - 1996) of the Greensburg Rotary Club.
Read Our Blog…
"Did Someone Say RV Road Trip?" (www.glotours.blogspot.com) is intended to entertain and inform. Patty Lonsbary began writing this blog in July 2006. Most recent entries will entertain you with articles about traveling in the USA and Canada. Earlier entries chronicle the practical and emotional details of actions leading up to living fulltime on the road in a Prevost bus conversion/motorhome and giving up a career as a fundraising consultant to begin her own company Global Tourism Solutions, Inc. In 2009, "Did Somebody Say RV Road Trip?" will become a blog about life on the road in Central and South America. This blog is the foundation for a travelogue series starring Ed Lonsbary as "Red Leader" to be released in 2010.
We're Looking for a Film Maker
Ed Lonsbary opened the world of travel to people wanting to visit the USA and Canada in a luxury motorhome/bus conversion. He has been the primary driver/escort for travel. Soon Ed will move on to his next entrepreneurial goal: creating a Charles Kuralt-type program about the traveling life aboard a motor coach/bus conversion. Ed will be the main character of "Did Someone Say RV Road Trip?" – a travelogue chronicling RV travel through Central and South America. The travelogue series will be available for purchase from Global Tourism Solutions, Inc. in 2010. The show will break the myth that RV travel south of the boarder is "dangerous", seek out the best places to "boondock", and take you to the end of the earth in the town of Ushuaia where the road really is a dead end.
With Lonsbary as the main character, he is looking for a film team and producer willing to travel and handle the media production details. If you or someone you know might be interested in participating in this project, contact travel@privatemotorcoach.com before August 2008.
We're Really Not Tourists: It's a Shake Down Cruise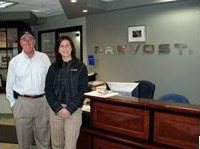 Ed Lonsbary at the Prevost Factory with Gisele Roy, Prevost Customer Support Manager – Bus Shell Division, Saint-Claire, Quebec, Canada
Traveling through New York and Canada in September and October 2007 may seem at first to have been an extended RV vacation for Ed and Patty Lonsbary. But, Ed quickly dismisses this notion. "We're not really tourists," he explains. Several reasons come to mind.

This trip constitutes a "shake down cruise" according to Ed. "Our Prevost coach may be new to us, but we are the fourth owners of this previously loved RV. And, since our future intent is to put the coach in operation for our customers, all mechanical functions must be reliable." Throughout this trip, Ed constantly monitored fluids, tires, brakes, engine, and transmission. He made notes on concerns and created a list of questions to ask the experts. Second, Lonsbary took the coach to the experts.

The first set of experts was the mechanics and technicians team at the Prevost service center in St. Nicolas, Quebec. For four days and then another two upon return from the Gaspé, these men installed new brakes, replaced a differential joint, and inspected the coach from engine to axel. Another set of experts at Trans Arctic in Longueuil, Quebec needed two days to repair the three Espar heaters that would warm the coach interior when temperatures drop.

The "shake down cruise" also tested navigation skills. Lonsbary tested a satellite program called DeLorme Street Atlas USA that runs off the coach laptop. As a back-up, Rand McNally's The Road Atlas '07 including the Wal-Mart and Sam's Club Store Directory for the U.S., Canada, and Mexico remains on board as a handy reference.

Lonsbary explored communications technology during this trip too. The coach now has a Black Berry cell phone and a second cell phone in the Verizon network. Skype is another available option for communication through the coach lap top when there is access to the Internet. The coach has access to the Internet in the U.S. through Verizon's Broadband Network.

As a result of this "shake down" cruise, Lonsbary says he's assured that guests will have a safe, reliable ride with the technology today's travelers expect.
"Anywhere- Anytime" Volume 13 March 2008
"Anywhere-Anytime" is the newsletter for Private Motor Coach, Inc. guests and business associates celebrating the luxury of the private travel experience and freedom of the open road.
Our motto is... "Anywhere - Anytime"