Volume 10
Red Leader's Travel Journal
Ed Lonsbary's claim to have "wanderlust in his heart" proved true during the 2005 travel season. On the road for his travel company Private Motor Coach, Inc. for 102 days, Ed, who likes the CB handle "Red Leader" covered nearly 25,000 miles and hosted six trips. He rolled across the highways and byways with ease in his motorhome/bus conversion "Patty's Charm." He went as far west as the coast of British Columbia, inland through national parks such as the Grand Canyon, south to the Texas Big Bend area, west as far as Phoenix and northeast to Vermont, all from his home base in Whitehouse, Texas. Here's Red Leader's travel journal from June to November, ENJOY!
Trip Statistics:
6 trips, 20 passengers and 1 dog
Traveled 24,872 miles
Went from TX to VT to OH to NE to IA to OR to WA to BC, Canada to SD, to OH to TX to NM to AZ and home and includes all the states in between.
On the road 102 days from June to November.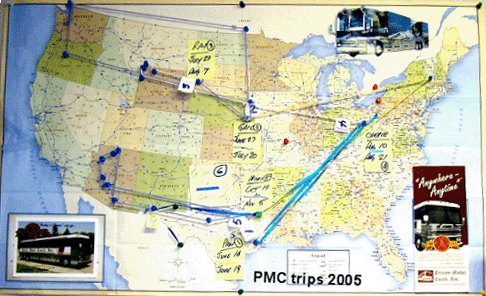 Trips and details
Trip 1
Pam & Bob from Austin, TX to their summer home in VT. Includes their Maltese dog, Magnolia (aka…Maggie). Trip was 2,000 miles and took four days. I stayed onboard our motor coach "Patty's Charm" overnight, they stayed in Hampton Inns. Bob was in the early stages of Alzheimer's. He could not fly. Pam was very nice, and she worked very hard to take care of Bob. Makes one appreciate good health. Wow was it HOT in Austin in June! Nice ride north. Vermont is lovely and green in the spring, much cooler than Texas. Got to go by the Orvis fishing store in Manchester and see the great trout river the Battenkill. Nice ride, enjoyed visiting with Pam about politics, business and generally what is important in life. Bragged about my daughter Suzie!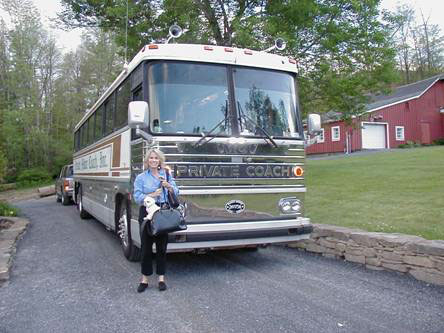 Trip 2
Next up was the Wierda Family. Traveled from Manchester, VT to Lincoln, NE to meet Gail, Beth and Carol Wierda. Beth is an elementary school teacher. Carol is a lawyer and Beth is a director for the Lincoln School District Learning Disability Department. With Beth, Gail and Carol on board "Patty's Charm" traveled north to Sioux Center, IA to pick up their parents, Marvin and Lorraine. Marvin is a retired house painter and Lorraine a retired school teacher. They are both a little handicapped and move slow but are very nice. They brought along their walker and wheelchair for moving around assistance.
The three sisters had previously done a tour of the Alaskan Inside Passage aboard a cruise ship a few years before; now they wanted to do it again with their parents. My job was to get them to Vancouver and back and have a fun ride. Also, reconnecting as a family was paramount. Early in the trip, Gail and my wife Patty came to my aid, as I left my passport at home. Patty overnighted it to me or I would not have been able to enter Canada. Thanks.
First, we made our way west on I-90, with a side trip to Redmond, OR to see Lorraine's sister. It was a surprise stop and were they surprised! After this side trip, we head north to Vancouver to meet the cruise ship MS Volendam. After they departed for a six day trip, I layed over in an RV park in Vancouver. Got to see Vancouver and my cousin Christine. Upon the Wierda family's return to Vancouver, we headed out of Canada to the USA and back to their home in NE. Plan was to head east on I-90 and stop by Soap Lake, a small town in Eastern, WA where Lorraine spent her early years. After a short visit there, we headed east towards NE. A side trip was tentatively planned for western Canada, but we just ran out of time. Maybe next year. Got them home on time and in good sprits. In all traveled 4,738 miles over 20 days. Super trip with a Super family. My kind a ride. Still bragged about Suzie!
Trip 3
After the Wierda trip, headed north to Dell Rapids, SD and made a short visit to Prairie Coach and owner and friend Bill Conner. Layed over for four days and rested up for the Tiedemann trip. Then made a turn west on I-90 to pick up the Tiedemann family in Rapid City, SD. This family is from NJ and they valued the ride in our motor coach "Patty's Charm" due to the medical needs of the grandmother. Also, our escorted travel service met the needs of her six grandchildren. A German nanny and a family friend were also along to assist. On the way out, I stopped by the Corn Palace in Mitchell, SD and Wall Drug in Wall, SD. Both are world famous attractions and are iconic to the Dakotas.
While in western SD with the Tiedemann's, visited the Bad Lands, Mt. Rushmore and checked out various Black Hills gold attractions. Plan was to do Yellowstone National Park, Chief Joseph Highway and the Grand Tetons, but due to a scheduling conflict, the Tiedemann's the trip was cut short. One benefit was that I know was able to "deadhead" the 1,310 miles to Newark, OH, without having my son Chris, come in and help me drive.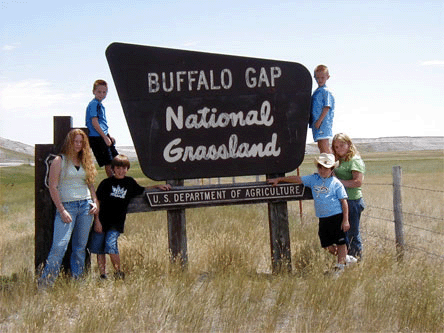 Trip 4
Next up were the Benner and Schmidt families from Newark, OH. Cherie Hendershot of Missouri City, TX had arranged this trip in order to bring her family to Texas for a family reunion. Trip started in Newark, OH and headed 1,300 miles south to Missouri City, TX, a two-day trip. Passed through New Orleans area on Aug.11th, never expecting it would be destroyed 18 days later as a result of Hurricane Katrina. Unbelievable, shows the power of Mother Nature! Got them into Missouri City on time. In order to see our Suzie off to college, came home for a few days during the necessary six-day layover. Returned to Missouri City to pick up the Benner and Schmidt families and headed north to Ohio. Surprising we had no problem with Houston traffic. Made it back to Ohio safely. My guests had a great time on board our motor coach "Patty's Charm". They laughed, played cards, snacked and had really good family conversations. Enjoyed talking to Bob Schmidt about business and life in general. He was my co-pilot and was very helpful with directions. I enjoyed this family very much and wish them well. In total we traveled 2,600 miles. Still bragged about Suzie!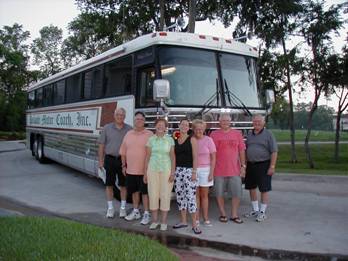 Trip 5
I had a very special traveler for one trip – my honey - Patty! In celebration of her 50th birthday, we traveled in the bus for ten days from Texas to Albuquerque, New Mexico. We explored the Carlsbad Caverns, White Sands National Monument, and the Gila Cliff Dwelling artifacts. She was on the edge of her seat as we climbed and then descended New Mexico's mountains 7,000 – 8,000 feet high with multiple switchback turns and no guard rails. She held her breath and closed her eyes at nearly every bend! Even with those mountain passes, it was nice to have that time together on the road and enjoy the sense of freedom it brought us. Still bragged about Suzie!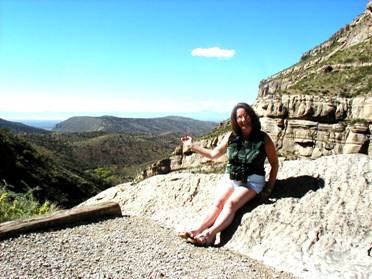 Trip 6
As they say, "3rd time's a charm". That is so true when I took Mimi Cocks, a family friend on a four-week tour of AZ, NM and Texas during the fall of 2005. This lady is from NY and has traveled with me on two other occasions. In 2001, we did five-weeks checking out Yellowstone National Park, Grand Tetons, Jackson Hole and the Bad Lands of SD. Also, did some other interesting side trips to SD, namely Wall Drug. We did the Bear Tooth and Chief Joseph Highways to Red Lodge, MT. We stopped by Aladdin, population 8, Mount Rushmore, the Crazy Horse Memorial and Devil's Tower National Monument and much more as we traveled in "Patty's Charm" from our former base in Pittsburgh, PA. For a detailed summary, see http://www.privatemotorcoach.com/photoalbum-CT2001-3.htm and http://www.privatemotorcoach.com/photoalbum-CT2001-4.htm
In 2003, I took Mimi on a six-week trip to Alaska, via the Alaskan Ferry and the Inside Passage to Valdez. We also did the Yukon, British Columbia, Alberta, and back to the USA via Sweet Grass, MT. What a trip! See this link for more info http://www.privatemotorcoach.com/pressrelease-page23.htm and http://www.privatemotorcoach.com/PMC.pdf
This time, fall of 2005, I met Mimi in Phoenix, AZ. Our plan was to see in more detail AZ, NM and West Texas. From Sky Harbor Airport, we went first to the Frank Lloyd Wright Museum, Taliesin West in Scottsdale, and AZ. Next, we headed north to Prescott and Sedona, AZ. Both of these towns are very interesting, especially Sedona, with its red rock mountains and awesome vistas. After a few days, we were off to the Grand Canyon, via Flagstaff, AZ. From our base camp at a local KOA RV park, Mimi toured the area, rode her bike and made a side trip to Peach Springs, AZ, via Route 66 and took a helicopter ride down into the Grand Canyon.
Our next destination was, of course, to the Grand Canyon at the South Rim. We stayed in the RV park in the Grand Canyon National Park. During the next three days, Mimi had an "up close" look at this wonder of the world! You just have to see it for yourself to believe it. Our next destination was west via Hwy 264 to Tuba City, AZ. On this highway, we passed through the Navajo and Hopi Indian Reservations. Mimi was able to buy local crafts from the Native Americans, both silver jewelry and a hand carving of a Kachina Doll. Our final destination on this leg of the trip was Chinle, AZ, the starting point for visiting Canyon Deucedly National Monument. After three days of touring this remote canyon site we headed south via Hwy 191 in order to get to I-10 in southern AZ.
Our next stop was to tour El Paso and then make our way to a dude ranch in Martha, Texas. Mimi spent 2 days at this fabulous dude ranch and at this point our trip was coming to a close. The next day we deadheaded to Fort Worth, TX to meet her friends and catch her airline ride home to NY.
My final destination was home in Whitehouse TX to see my family. Still bragged about Suzie.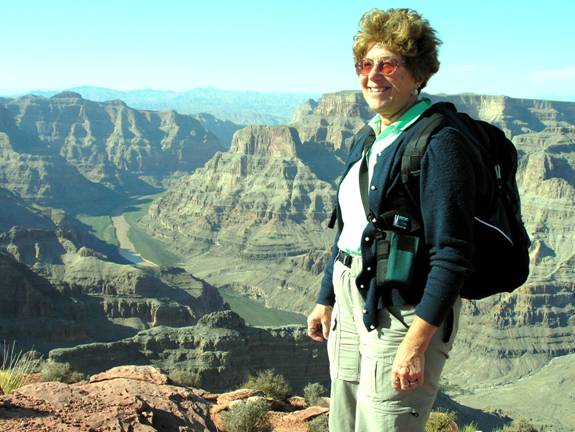 Our motto is... "Anywhere - Anytime"