Press Release

FOR IMMEDIATE RELEASE

January 19, 2009

Contact: Patricia M. Lonsbary General Manager Private Motor Coach, Inc. www.privatemotorcoach.com travel@privatemotorcoach.com 903-839-2922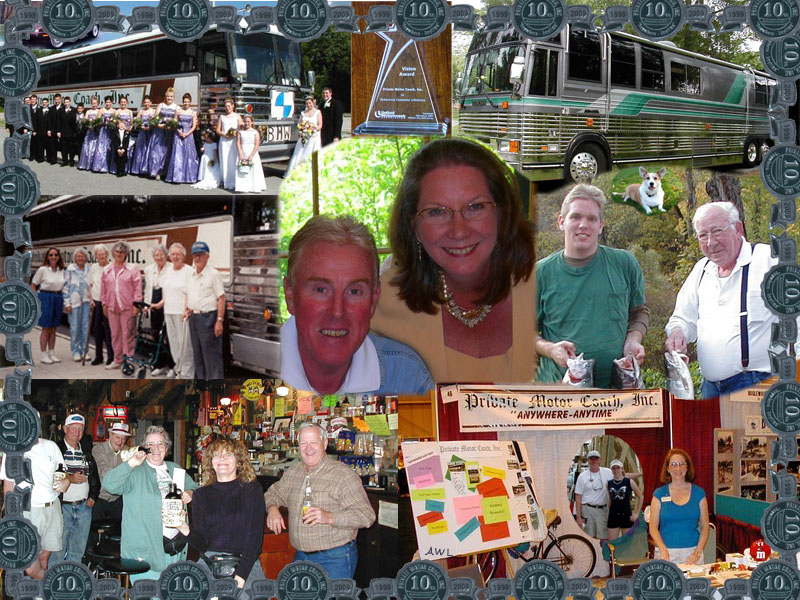 Private Motor Coach, Inc. Celebrates Its Ten Year Anniversary
Private Motor Coach, Inc. (PMC) celebrates its ten year anniversary on January 25, 2009. This unique travel company provides "Anywhere-Anytime"™ escorted private travel in a luxury motor coach/bus conversion for up to 10 people in the US, Canada, and Central and South America. The company was founded by Canadian Ed Lonsbary in 1999. In response to this unique service and excellent customer feedback, Lonsbary was awarded the 2001 United Motorcoach Association (UMA) Vision Award for innovative travel. He is the owner, operator and driver- escort on all trips in a luxury "house-on-wheels," Prevost XL motor coach. In the months leading up to the occasion of the ten year anniversary, Lonsbary completed a 10,000 Mile Grand Tour of the USA and Canada showcasing PMC and promoting his concept of private travel. His future plans are to expand the current PMC trip offerings and build a new travel consulting company called Global Tourism Solutions, Inc.
Quartzsite, Arizona - January 19, 2009 -- "Looking back 10 years, I remember promising to give each traveler aboard our coach a life-long memorable travel experience," says Ed Lonsbary, the President and Founder of Private Motor Coach, Inc. (PMC). On January 25th, Lonsbary celebrates the tenth anniversary of operating Private Motor Coach, Inc.
"Our ten years in business proves that we accomplished this goal and succeeded in providing an alternative way to travel that meets the unique needs of travelers," reflects Lonsbary. "I am still very proud of the honor given to me in 2001. After only two years in business, the United Motorcoach Association awarded PMC the 2001Vision Award for innovative travel. I plan to uphold this recognition forever." Added Lonsbary, "Private Motor Coach, Inc. has earned a highly regarded reputation and will continue operations as a provider of quality private travel that is safe, convenient, and worry-free "Anywhere-Anytime" in the USA, Canada, Central and South America."
Leading up to the occasion of this ten year anniversary, Ed Lonsbary and his wife Patty took an unprecedented trip. Starting in April 2008, they left a winter haven in Pharr, Texas and began a 10,000 Mile Grand Tour of the USA and Canada. The purpose of the tour was to create exposure for the company, build the PMC brand of private travel, and explore possible destinations for future trip bookings. Their journey took them along coastal Texas, into the bayous of Louisiana, north to Ontario's 1,000 Islands, cross-country to Banff National Park and Vancouver Island, and then south through Washington to a scenic coastal drive along Highway 101 of the Oregon coast. The Tour ended September 2008 in Florence, Oregon. The entire trip is chronicled in a blog "Did Someone Say RV Road Trip?" www.glotours.blogspot.com . Patty Lonsbary plans to release their story of the 10,000 Mile Grand Tour in a book late in 2009.
Although the 10,000 Mile Grand Tour was without customers onboard, Lonsbary previously completed more than 50 trips and drove over 165,000 miles throughout the US and Canada with travelers numbering as few as one or as many as eight aboard. Some trips were as short just one day while others went on for up to six weeks.
Canadian-born Lonsbary began sharing his passion for wanderlust since January 25, 1999 when at age 51 he left a 26-year corporate career and became the first to offer the unique experience of freedom on the road in a luxury motorhome/bus conversion. He launched Private Motor Coach, Inc. from the basement of his North Park home in Gibsonia near Pittsburgh, Pennsylvania. In 2001, he moved the operation to Whitehouse near Dallas, Texas. In April 2007, he began living in the coach fulltime operating as an Internet based company through the website www.privatemotorcoach.com.
That same year, Lonsbary replaced his original coach, a MCI-9 called "Patty's Charm" with an upgraded Prevost XL motorcoach/bus conversion called "Dolly's Pride." As with the first coach, the Prevost has all the amenities of a house-on-wheels: living room, kitchen, dinette, full bathroom with shower, queen-sized bedroom, and a large storage bay for bicycles, luggage, sports equipment or whatever needs to go along on a trip, including wheelchairs. Lonsbary also tows a Toyota Corolla behind the coach for side trips.
"This is safe, reliable and comfortable escorted, private travel," explains Lonsbary. "A person does not have to be rock star to travel like one. Everyone feels like a VIP when they ride with me. My coach becomes their temporary home while on the road; and, as an escort, I take care of them."
Lonsbary says his entrepreneurial spirit is stronger than ever with PMC reaching this momentous decade of service. He is also building a new entrepreneurial venture with his wife Patty called Global Tourism Solutions, Inc. (GTS), www.glotours.com a company offering tourism management consulting services and destination writing.
"I want to keep building and growing within the travel industry," says Lonsbary. "Managing and operating PMC has given me tremendous depth and insight into people's travel expectations. I am an expert at looking beyond the traditional travel services. That is why PMC reached a ten year anniversary and why GTS will be an extension of this endeavor."
Tirelessly, Lonsbary plans to continue inspiring wanderlust by offering escorted trips. He explained, "Private Motor Coach will include more than just North America. I am ready to take people to Central American and South America."
# # #
Private Motor Coach, Inc. takes up to 10 people "Anywhere-Anytime"™ in a luxury motor coach/bus conversion. The company President and Founder Ed Lonsbary left a corporate career at age 51 to live his wanderlust dream and create this unique travel company in January 1999.
For more information about Private Motor Coach, Inc. visit: www.privatemotorcoach.com
To schedule an interview with Ed Lonsbary or request photos contact:
Patricia Lonsbary, Vice President & General Manager at patty@glotours.com or
call 724-244-9975.