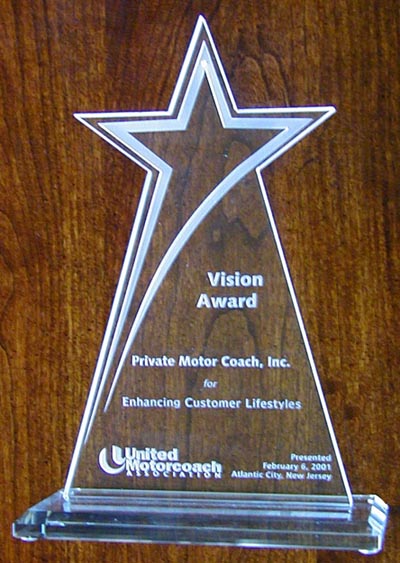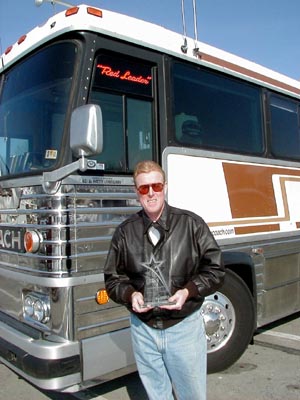 Ed Lonsbary (aka..."Red Leader"), President, Private Motor Coach, Inc. with UMA (United Motorcoach Association) 2001 Vision Award and "Patty's Charm"
Motorcoach Industry 2001 Vision Award goes to
Private Motor Coach, Inc.
Private Motor Coach, Inc. received the Motorcoach Industry 2001 Vision Award. President Ed Lonsbary accepted this award on February 6th at the United Motorcoach Association Motorcoach Expo 2001 in Atlantic City, New Jersey. Julie Anna Cirillo, Acting Assistant Administrator and Chief Safety Officer for the Federal Motor Carrier Safety Administration was on hand to present the award.
The Vision Award recognizes Private Motor Coach, Inc. as being a dynamic leader in the safe transportation of people with unique needs and in a manner that enhances their lifestyles. The award acknowledges commitments to safety, excellence in operation and service, innovation in marketing, product development and social responsibility.
Private Motor Coach, Inc. does not offer a tour or a conventional bus trip from Point A to Point B. The traveler specifies the route and destination. Ed Lonsbary is the driver/host/chauffeur of this motorcoach/bus conversion. He take only 2 to 10 people "Anywhere-Anytime" in the United States, Canada, Mexico, and Central and South America.
Ed Lonsbary said, "Private Motor Coach, Inc. is a demographics based business founded on the premise that Baby Boomers will want to travel. In addition, there is an ever-expanding population of persons wanting to travel; but due to health constraints, traditional modes of travel just will not work. Private Motor Coach, Inc. is meeting these lifestyle requirements.
The Vision Award was created by the United Motorcoach Association (UMA), North America's largest association of professional bus and motorcoach companies. Headquartered in Alexandria, Virginia, UMA serves the information, legislative, regulatory and business needs of its member companies.
Our motto is... "Anywhere - Anytime"